Insuring your home is one of the most important things you need to do as a homeowner. Your home is most likely one of the largest purchases you will ever make. Homeowners insurance helps you protect that investment by insuring the structure of your home and the personal property you keep inside it. Your homeowners insurance policy may also provide additional financial protection with coverage for other structures, personal liability, medical expenses, and additional living expenses.

You may have several questions about what circumstances your homeowners insurance policy provides coverage for and how much your policy covers. At Excellence First Insurance our top priority is to answer these questions and help you insure your home as if it were our own! Our insurance agents make it easy to review, compare, and understand your homeowners insurance policy options and ensure you have the coverage you need.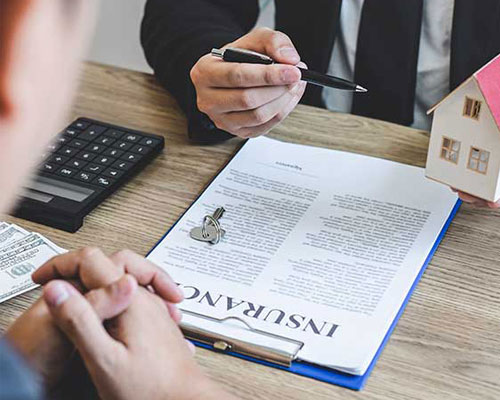 Types of Homeowners Insurance Coverage
Ready for your insurance review? We'd be happy to help you shop your homeowners insurance. Please answer the questions below to help us find you the best rate possible.

CLICK HERE TO START YOUR QUOTE!


It is important to know the types of coverage your homeowners insurance policy includes and how each coverage type protects you from financial loss. Not every homeowners insurance policy includes the same types of coverage, but a standard homeowners insurance policy usually includes the following six types of coverage:


Dwelling Coverage
Dwelling coverage, also known as main structure coverage, provides coverage for the physical structure of your home. Your home's physical structure includes anything that is physically attached to your home such as the foundation, walls, roof, windows, doors, and support beams. If your home's physical structure is damaged as a result of a coverable incident, dwelling coverage helps pay for the costs of repairing those damages or rebuilding the physical structure of your home. The amount of dwelling coverage you need is calculated based on the cost of rebuilding your home, not by your home's market value.
Additional Living Expenses (ALE) Coverage
Additional Living Expenses (ALE) coverage, also called Loss of Use coverage, protects you from the costs of relocating due to a coverage loss. If damage to your home has made it uninhabitable and you need to temporarily relocate while it is being repaired our rebuilt, this coverage will help you relocation costs such as the cost of staying in a hotel room and eating at restaurants. This coverage may also reimburse you for loss of rental income you would normally collect from a tenant if you rent out part of your home.
Personal Property Coverage
Personal property coverage protects the value of personal belongings that you keep inside your home such as furniture, clothing, electronics, and more. If a coverable incident damages your personal property, this coverage helps pay costs for repairing or replacing your property. You can purchase personal property coverage based on either the actual cash value of your property or the replacement cost.
Other Structures Coverage
You probably have structures that are not physically attached to your home that are located on the same property as your home. Such structures include mailboxes, fences, sheds, detached garages, gazebos, barns, flagpoles, and more. If one of these additional structures are damaged by a coverable incident, other structures coverage helps pay for the costs of repairing the damages or replacing the structures.
Personal Liability Protection
If you or a member of your family accidentally cause someone else to sustain bodily injury or damage their personal property while they are on your property, you may be legally responsible for costs associated with their injuries or damages. Personal liability protection provides coverage for the costs of your legal representation, legal fees, and awards you are found responsible for. This coverage may also pay for injuries or damages that your pets cause to others. However, personal liability protection does not cover costs associated with injuries to you or a family member or damages to your own personal property.
Medical Protection
If someone else is injured while on your property, medical protection helps pay for the costs of their medical bills. This coverage applies only to injuries sustained by others, it does not pay for medical bills for injuries to you, your family, or your pets.
Homeowners Insurance Policy Considerations
Here are a few additional things to consider when selecting your homeowners insurance policy:
• All Other Perils Deductible: The portion of a claim you are responsible for in circumstances such as fire, lightning, and theft resulting in damage.
• Hurricane Deductible: The portion of a claim you are responsible for in the event of damage resulting from a "Named Storm".
• Homeowners Insurance Policy Exclusions: There are many exclusions on a homeowners insurance policy and these exclusions vary based on your insurance carrier.

Our licensed insurance agents carefully review the details of your homeowners insurance policy to ensure you understand what type of coverage your policy provides, what out-of-pocket expenses you are responsible for, and any exclusions that apply. Contact Excellence First Insurance today to have one of our licensed agents help you find the coverage you need within your budget!

Ready for your insurance review? Call or fill out the form below to request an appointment.
Homeowners Insurance Quote:
What Do You Want To Insure?